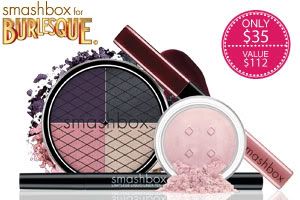 The Amazing people over at SMASHBOX are presenting a new collection inspired by the new film, starring Cher & Christina Aguleria, "BURLESQUE", I have a feeling the films actually going to be cheesy, in the vain of "SHOWGIRLS" i hope not. But I fo live me some Cher!
But I'd like to say this collection's not cheesy at all. I love it! The Quad included in this collection , I want it! But if you're anything like me and you simply want more, you greedy little bugger, you might want to check out the Nordstrom Exclusive Smashbox Burlesque Beauty Collection & Train Case.
This set includes everything that the Smashbox Burlesque Kit plus a few other surprises packaged in a keepsake train case.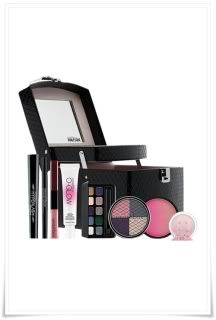 The set includes:
Smashbox Hyperlash Mascara in Blackout
Smashbox Limitless Liquid Liner Pen in Jet Black
Smashbox Double Ended Lip Gloss in Peep/Show
Smashbox O-Glow Intuitive Cheek Color
Smashbox Cream Eyeliner Palette in Vixen
Smashbox Eyeshadow Quad in Entice
Smashbox Fusion Soft Lights in Tease
Smashbox Loose Shimmer in Burle
Available at
NORDSTROMS
and to get your ready! check it out!